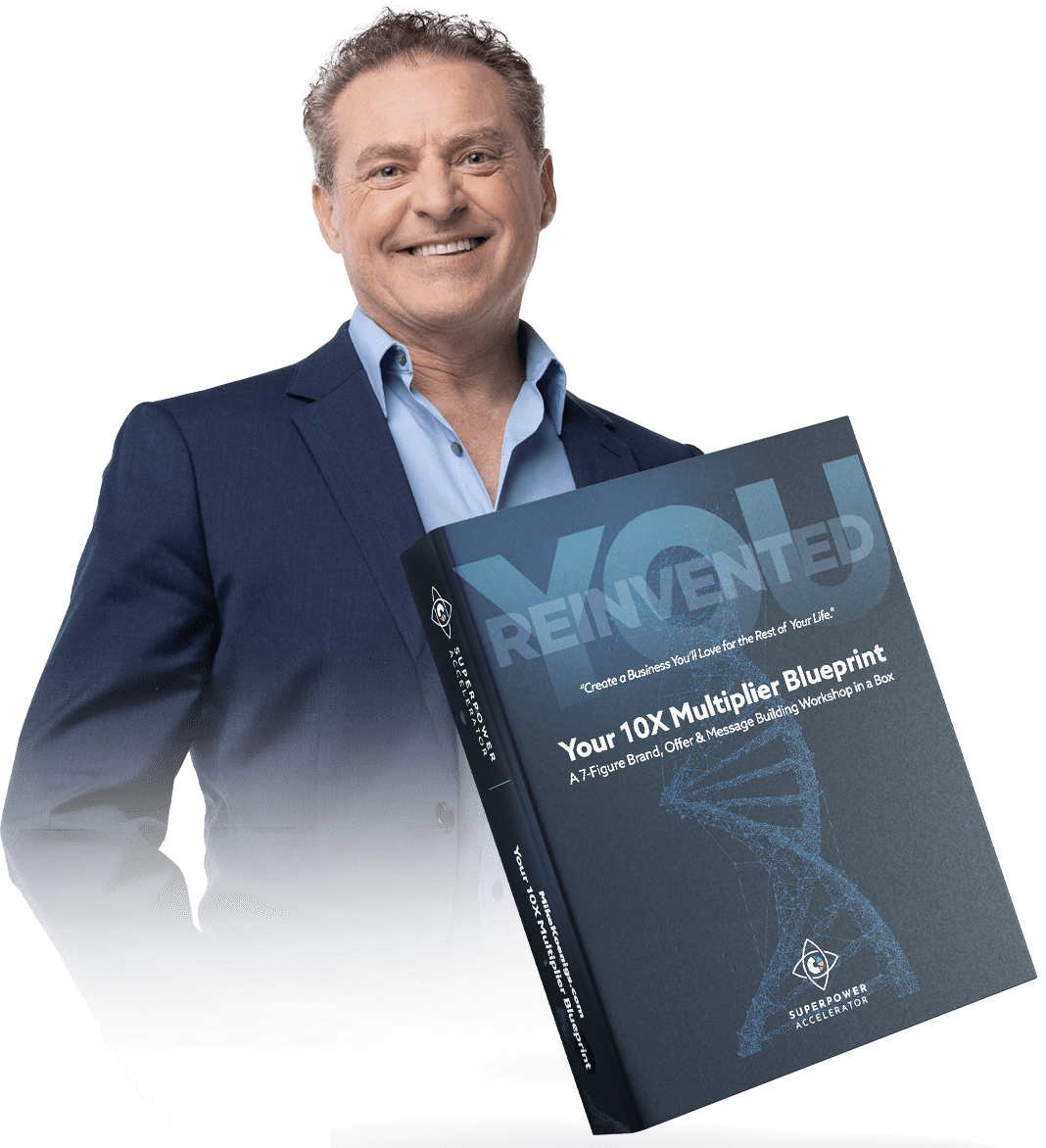 Get Your 10X Multiplier Blueprint
A 7-Figure Brand, Offer & Message Building Workshop in a Box
Packed with
worksheets, guides & templates
so you can create & launch a strong personal brand that will multiply the value of everything for the rest of your life!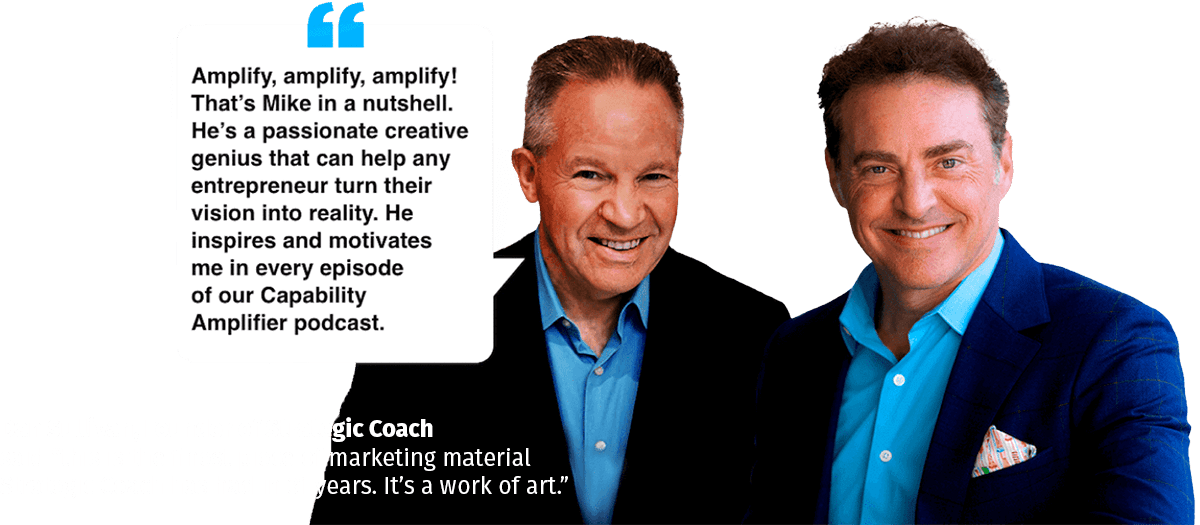 Why the 10X Multiplier Blueprint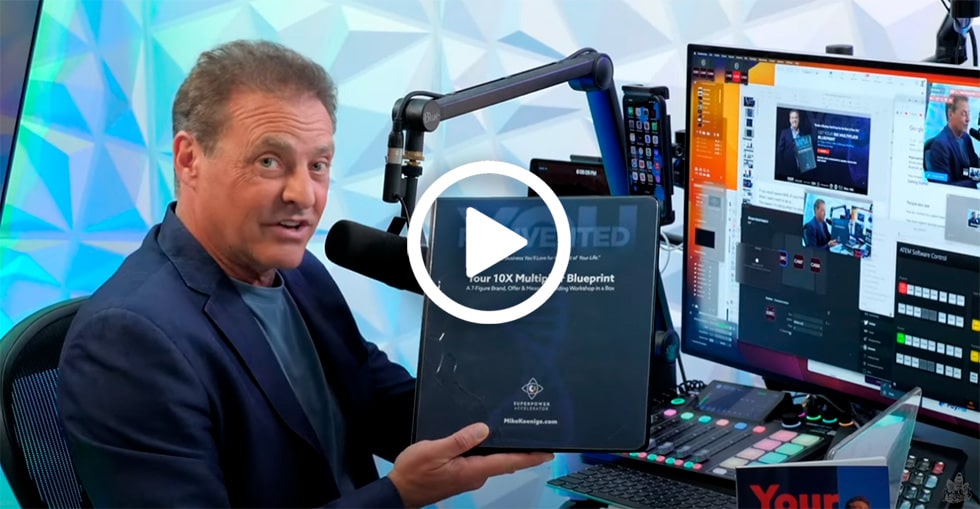 Welcome to the body of my life's work… the 10x Multiplier Blueprint.
Are you feeling stuck, burned out, or like you've outgrown who you are, what you do, why you do it, and who you do it for? This is the perfect solution for you.
Every business owner wants a high-net, low-overhead, high-income, lifestyle-compatible business without all the complexities. And that's exactly why I created the 10x Multiplier Blueprint.
It's the same system we use with our six-figure, in-person, Done-for-You Superpower Accelerator service that has helped over 100 entrepreneurs create their dream businesses.
With the 10x Multiplier Blueprint, you'll get step-by-step guidance to help you identify your strengths and create a business that you'll love for the rest of your life. And if you're already running a successful business, it will help you upgrade to better offers, higher ticket products, and better customers.
When you purchase the blueprint, you'll have instant access to the digital version, and the physical product will be sent to you right away.
Here's what's inside: A step-by-step blueprint that deconstructs over a hundred businesses we've created for our clients over the past five years, packed with millions of dollars worth of combined resources and tools and the script we use for our 3-day immersive, in-person workshops.
(Full disclosure, my good friend Pam Hendrickson helped create it. She's worked with Tony Robbins for over 30 years and other big names like Grant Cardone, Jordan Belfort, and Brian Tracy.)
You'll also get The Power of the Pitch, a beautiful hardcover book where I deconstruct pitches I've used for the past 20 years that have generated millions of dollars in sales. These are pitch decks in various fields like medical, finance, software investment, and real estate. You name it, it will work. Some of these brands have gone from zero to seven figures in less than 100 days, and many of them have generated seven and eight figures in a short period of time.
Investing in this system just flat-out works, and it's available to you right now at a fraction of the cost. The strategy session alone is worth the investment in the entire product!
So take the next step and join the Superpower Accelerator family today!
What is Included in Your 10x Multiplier Blueprint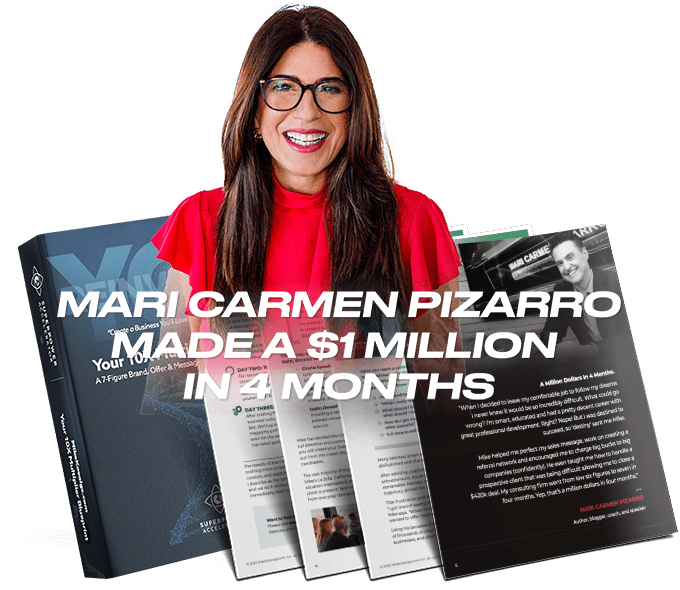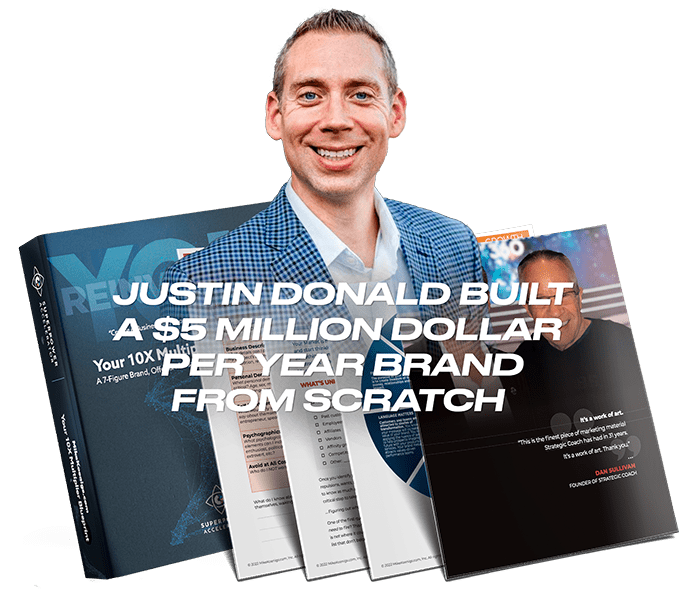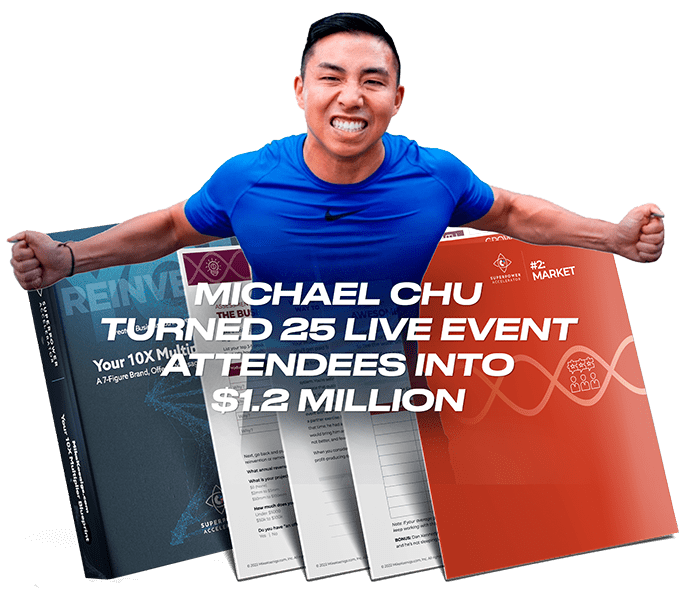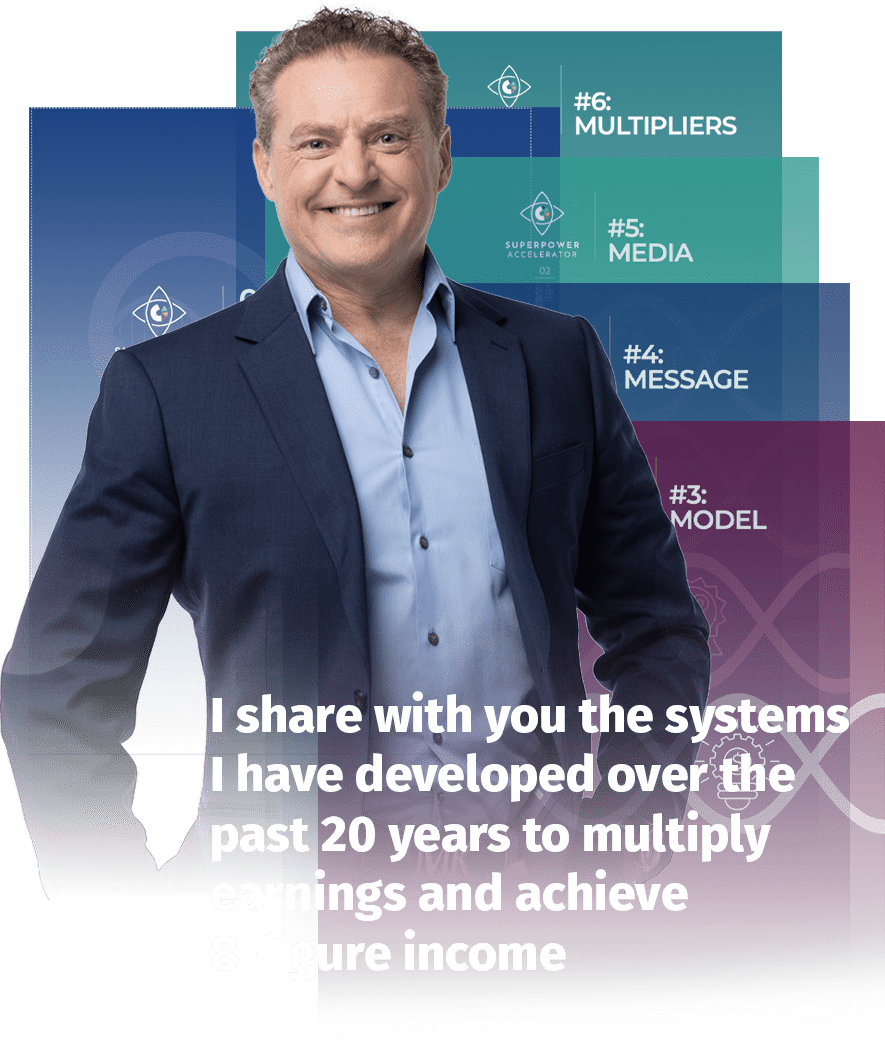 Superpower Accelerator Blueprint & 6M Growth Accelerators (6Ms) help you:
Develop a MINDSET to clarify exactly what you want, who you want to work with, who you want to repel, and why
Understand in detail the MARKET you want to work with and who can best benefit from your offer
Create a simple, elegant MODEL for delivering transformation to your clients and customers
Define a riveting MESSAGE that tells a story about who your brand is and the ways you can support your audience
Identify the MEDIA channels and platforms that will convey your Message to your Market
See how MULTIPLIERS can take the reinvention process even farther with specific strategies and tactics, refined over my decades of business success
In other words, you'll be in a position to completely remake your business model, your brand, and your future. A big promise, but anything worth doing is worth doing big!
FREE Bonuses With Your Purchase
Amplify Your Results
Full Membership Site: Engage with the 10X Multiplier Blueprint digitally, and watch Mike break down each module, step-by-step outlining all of the benefits.
Power of the Pitch: Mike deconstructs pitches that have routinely made millions of dollars from stage for us and our clients.
1:1 Blueprint Strategy Session: Meet with our Director of Client Experience to get clarity on your next act and to start your blueprint journey.
Ai Curriculum Manual: Offers step-by-step scripts to use in your business to jumpstart copywriting, with timesaving tips and resources
Reinvention Masterclass: Learn how to reinvent yourself, create a new business, and personal branding.
Bestselling Books: Get a free copy of Mike's most recent bestselling books

Your Next Act: The 6 Growth Accelerators for Creating a Business You'll Love for the Rest of Your Life (plus the audio book)
Referral Party: The Ultimate Guide to Growing Your Business with Zero Funnels, Zero Ads and Zero Costs
Punch the Elephant: How to Sell Anything to Anyone and Overcome any Objection…Even if You're Bad at Sales

MoneyPhone: One of Mike's most powerful strategies for business building and selling, using nothing more than an iPhone.
Gear Guide: Mike shares all of the latest equipment he recommends clients get and use, including what's in his studio in the Studio Tour video.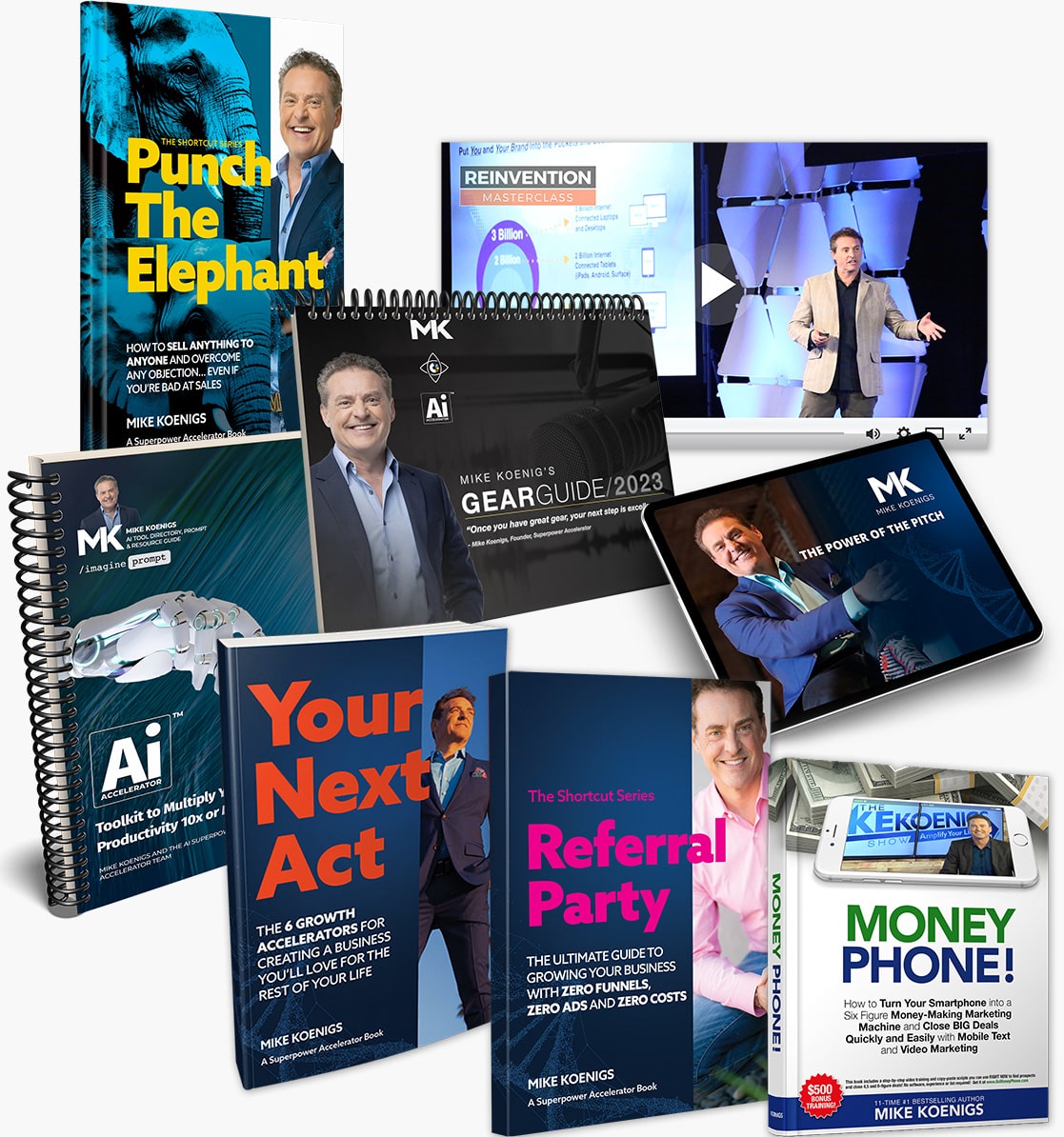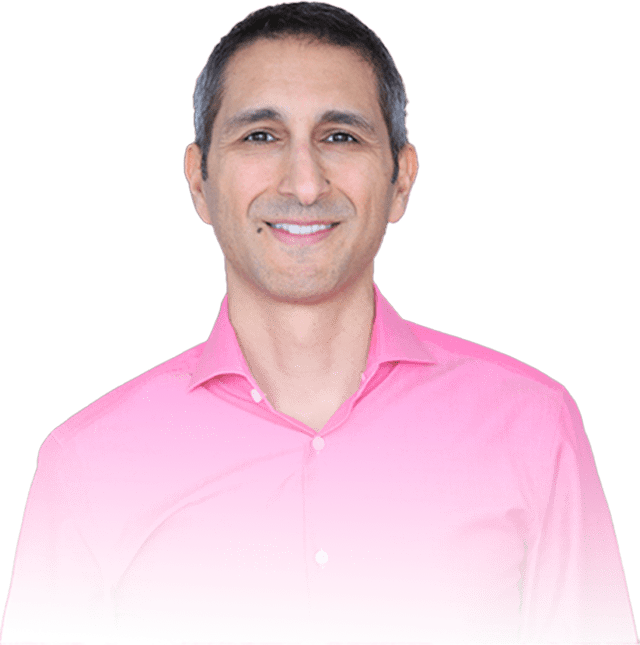 "It's incredibly rare to find someone who understands both marketing AND technology. Mike not only knows how to create killer video, he's also built the modern "push button" technology to get those videos out to the internet instantly."
Eben Pagan
Why is the 10X Multiplier Blueprint Right for You and Your Business Right Now?
If you answer "yes" to any of the questions below, then you're a perfect-fit candidate:
Do you want to be represented by world-class messaging that instantly speaks to your audience in a way that will connect, convince, and convert?
Do you want to dramatically shorten your sales cycle and decision-making process?
Would you like to find new ways to find hidden value in your business, monetize your intellectual property and find sources of recurring revenue?
Would you like to increase the value of your products and your prices without increasing your cost or time of delivery?
Do you want to inspire your marketing and sales teams to become better hunters and faster closers using the latest tools and technology available?
Do you lack the creative, innovative team you wish you had that can help you get out of your current challenges and into a blue ocean mindset?
Do you feel like you've outgrown who you are, what you do, why you do it, and who you do it for… and you're not sure why?
Success Story
Chuck Boyce
In just two weeks Chuck closed a deal for $35mm with his new brand AccuClients.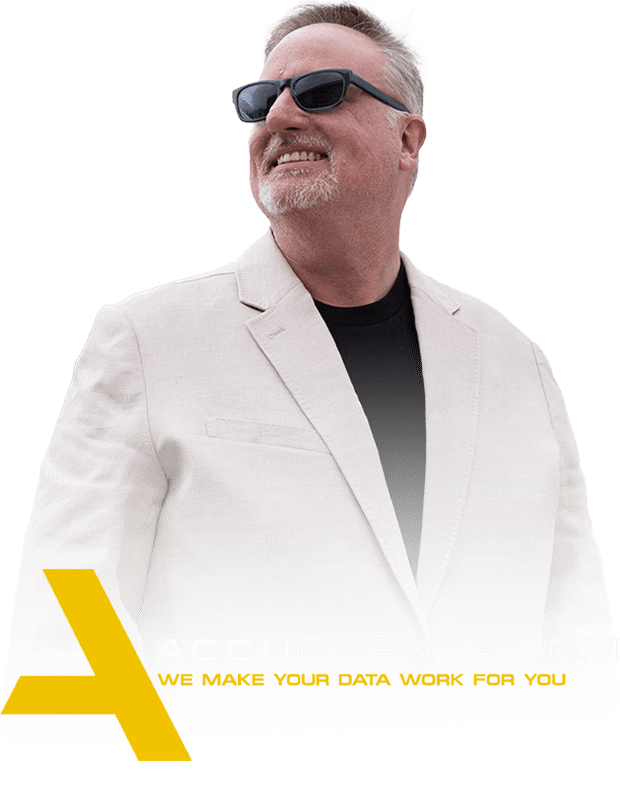 "Mike is an extraordinary man."
"He's brought me insights on how to reach people on the Internet that are so valuable. This is a man you should deal with. Take advantage of what he has to offer."
– Tony Robbins
Mike never ceases to amaze me with his ability to spot and capitalize on cutting-edge business and marketing trends, making it simple for anyone else to do the same. I simply steer it in his direction.
Brad Costanzo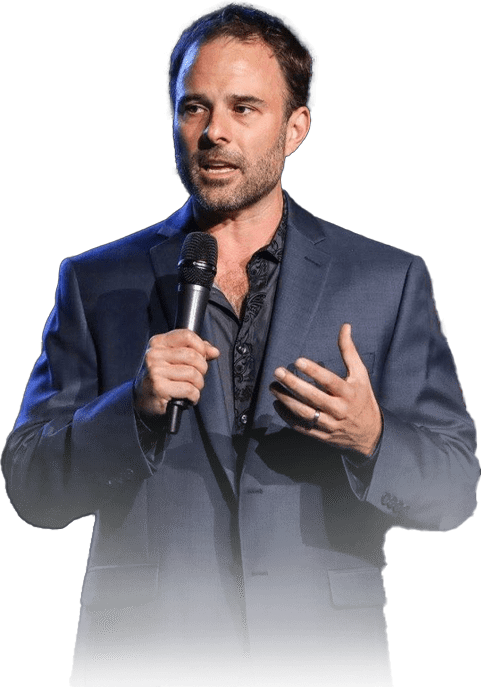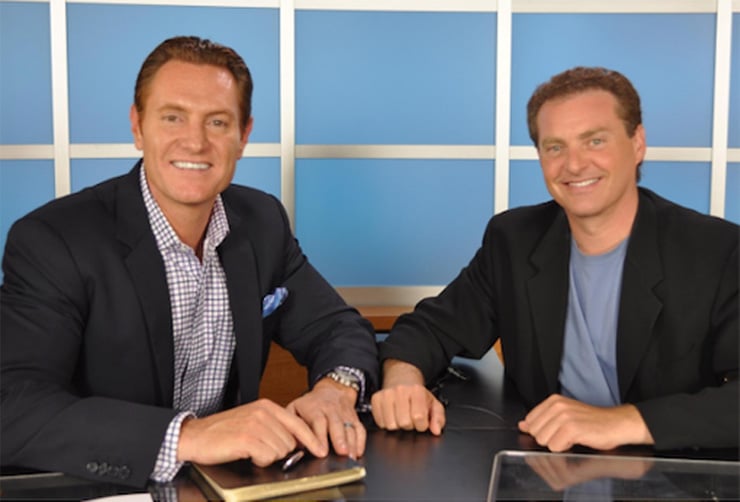 "Mike Koenigs is the "Doc" Brown of marketing and technology.
One question or one problem scenario unlocks his brain and 20 to 30 ingenious ideas pour out of it. One idea grew my database from 30,000 to 800,000 in 14 months. Another one contributed to a product launch that generated a million dollars in three days. Most recently another contributed to a marketing process that is now generating $250,000 a week. Mike Koenigs is a brilliant marketing muse who can make you money!
Darren Hardy, Founding Publisher/Editor SUCCESS magazine and Mentor to CEOs and High-Performance Achievers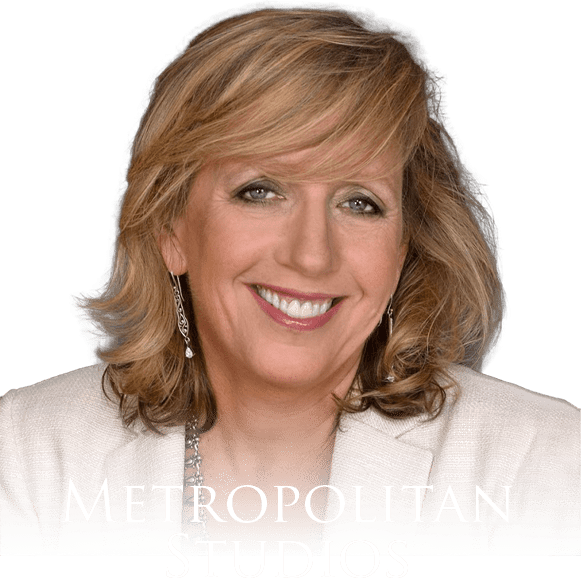 Success Story
Connie Witich
After working with Mike, Connie got her messaging perfected and landed $5.4 Million in projects and sales in 3 weeks.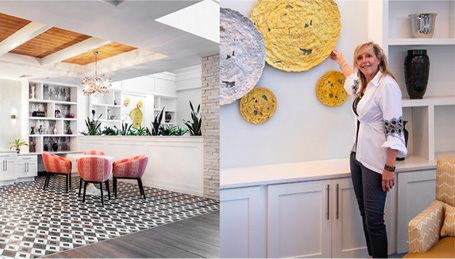 "Working with Mike totally changed the direction of my business and life.  We are focused on Wellness and The Art of Living Young. We now have a brand and product that attracts amazing clients."
Connie Wittich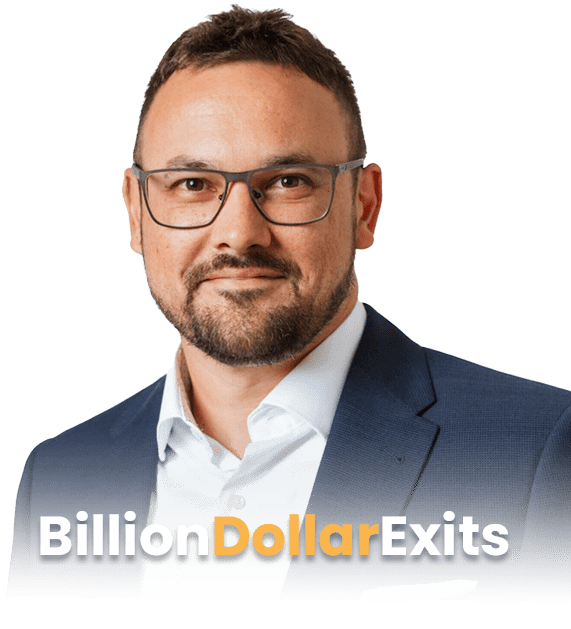 Success Story
Coran Woodmass
Mike took Coran from a $5k-$10k broker to offering $50k-$100k Workshops after creating his brand BillionDollarExits.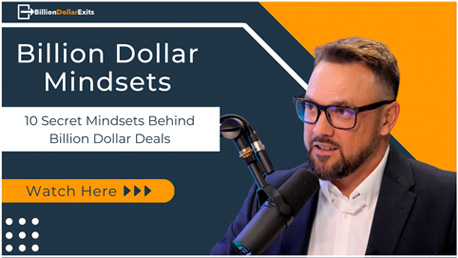 "It's a dream come true to now collaborate with an entrepreneur at the $200 million valuation and seeing the potential of building it to a billion dollar valuation within the next three to five years."
Coran Woodmass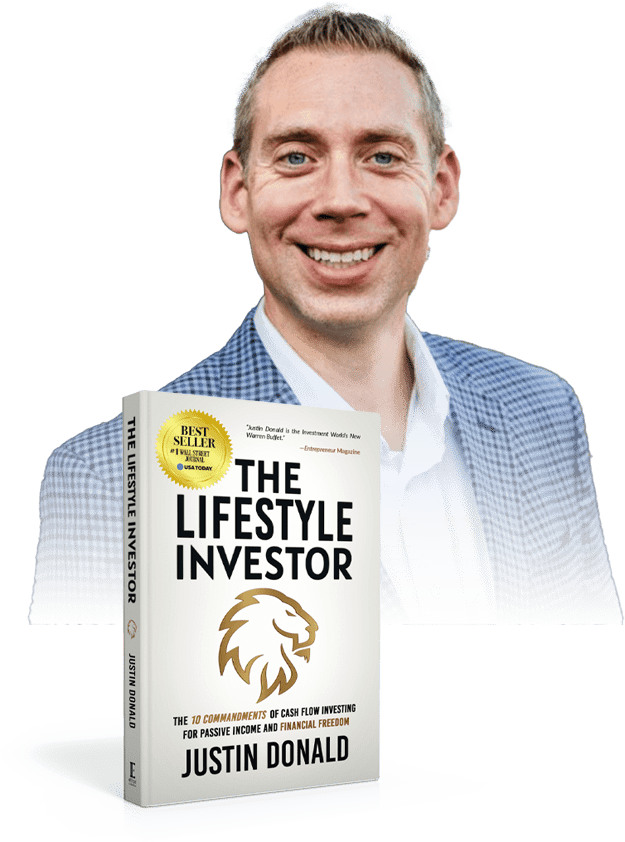 Success Story
Justin Donald
Before Mike, Justin was invisible, according to himself. With Mike's help Justin increased his Net Worth by over 10x and made over $1mm in only eight months and made Justin a digital footprint for clients to find him.
"I'm living my dream; I have almost 150 members in my $50,000 per year mastermind with 200+ syndicated deals and have raised hundreds of millions of dollars. I have a huge podcast following, but most importantly, anyone I want to talk to in the financial investing world knows who I am."
Justin Donald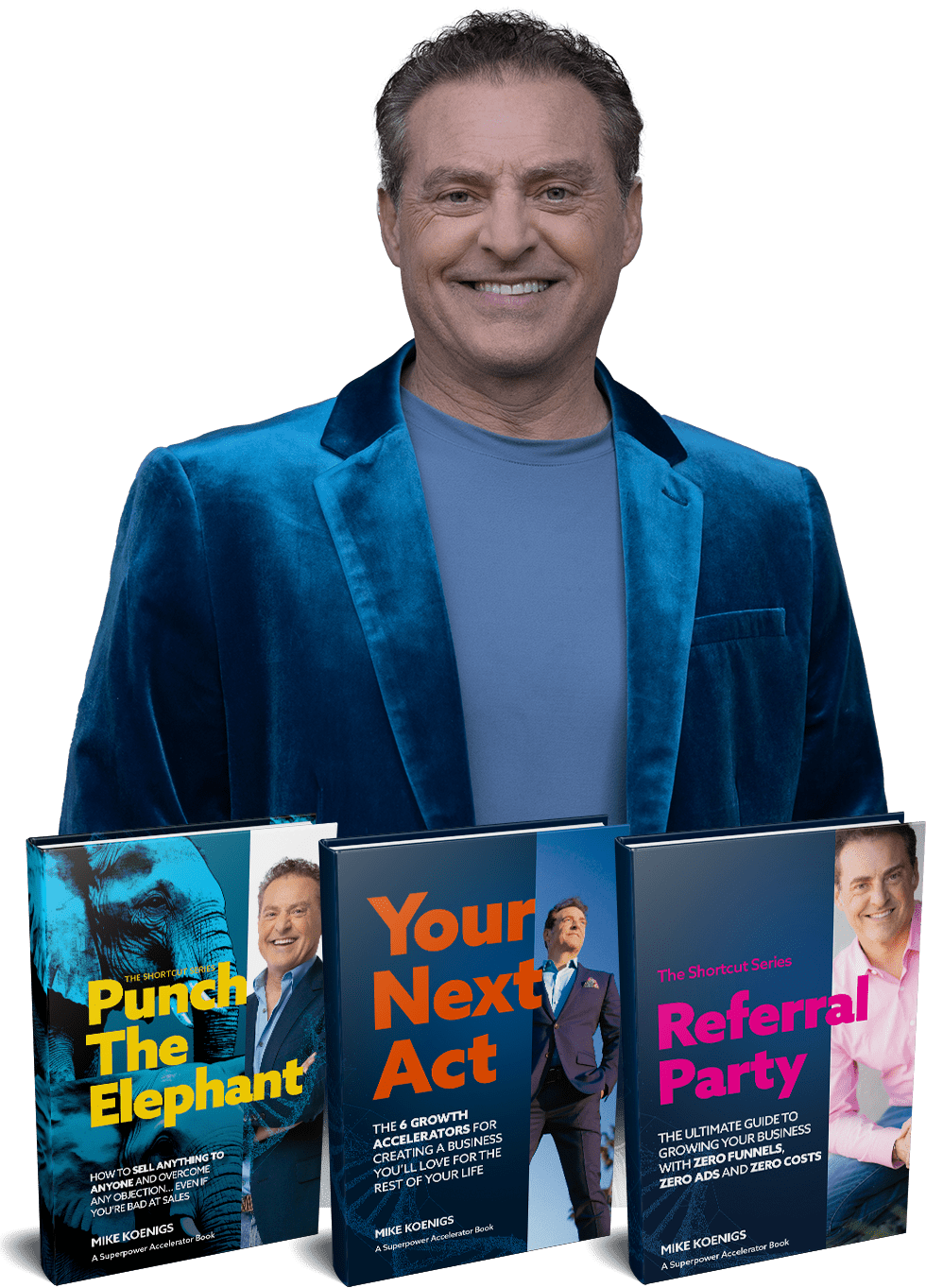 Mike Koenigs
17-Time Best-Selling Author
Serial Entrepreneur, VC and Angel Investor, Judge on Entrepreneur.com's "Elevator Pitch", Forbes and Entrepreneur Writer, 17-Time Bestselling Author, Mike Koenigs helps "Experts Build Empires" and "Category of One" personal brands. He works with business owners and entrepreneurs so they get PAID for BEING, instead of DOING by elevating their status, authority, thought-leadership and message to create more impact, income and freedom.
His companies have helped over 61,000 customers in 156 countries get noticed, amplify their message, create awareness, productize their knowledge, become bestselling authors, in-demand speakers and media masters to gain attention and engagement. He's helped over 1,800 business owners become bestselling authors.
Are you ready to experience the Superpower Accelerator?
Contact Mike Koenigs and his team to hold your spot to create a business you'll love for the rest of your life.