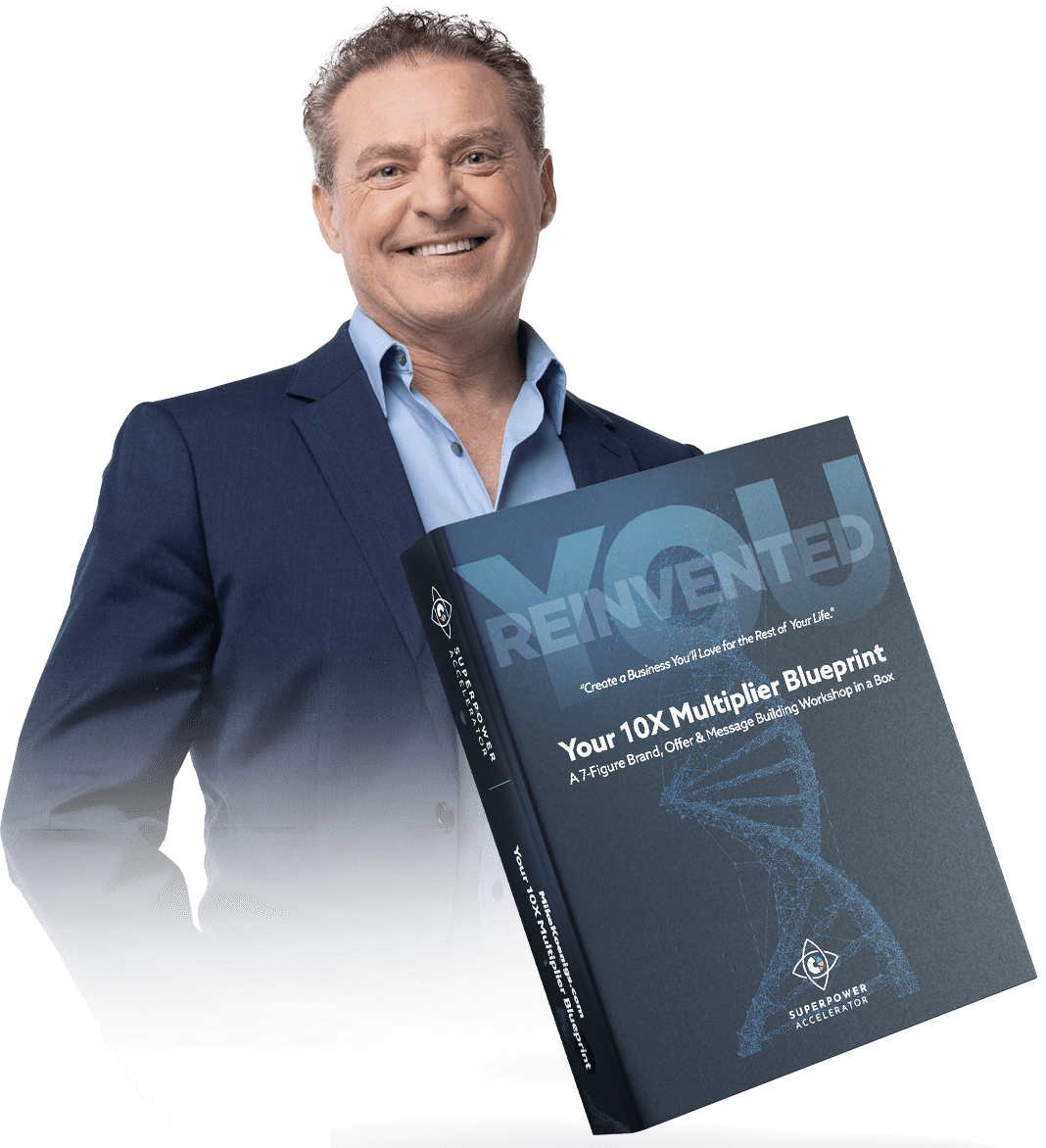 "Create a Business You'll Love for the Rest of Your Life."
Thank You for investing in 
Your 10X Multiplier Blueprint
A 7-Figure Brand, Offer & Message Building Workshop in a Box

You've made a really smart decision. Congratulations…
…On being bold enough to claim something more for yourself.
…On being forward-thinking enough to realize that where you've been and what you've done so far won't get you where you want to go.
…On being courageous enough to say, "I don't know"
I can't wait to see the results you achieve with Your 10X Multiplier Blueprint. Shortly, you will get an email from my team with your login credentials to our digital product so you can start RIGHT NOW. Plus, you have access to all of our bonuses in the online learning portal.
"Mike is an extraordinary man."
"He's brought me insights on how to reach people on the Internet that are so valuable. This is a man you should deal with. Take advantage of what he has to offer."
– Tony Robbins
FREE Bonuses
Amplify Your Results 
Power of the Pitch: Mike deconstructs pitches that have routinely made millions of dollars from stage for us and our clients.
1:1 Blueprint Strategy Session: Meet with our Director of Client Experience to get clarity on your next act and to start your blueprint journey.
Ai Curriculum Manual: Offers step-by-step scripts to use in your business to jumpstart copywriting, with timesaving tips and resources
Reinvention Masterclass: Learn how to reinvent yourself, create a new business, and personal branding.
Bestselling Books: Get a free copy of Mike's most recent bestselling books, Your Next Act: The 6 Growth Accelerators for Creating a Business You'll Love for the Rest of Your Life (plus the audio book) and Referral Party: The Ultimate Guide to Growing Your Business with Zero Funnels, Zero Ads and Zero Costs.
MoneyPhone: One of Mike's most powerful strategies for business building and selling, using nothing more than an iPhone.
Gear Guide: Mike shares all of the latest equipment he recommends clients get and use, including what's in his studio in the Studio Tour video.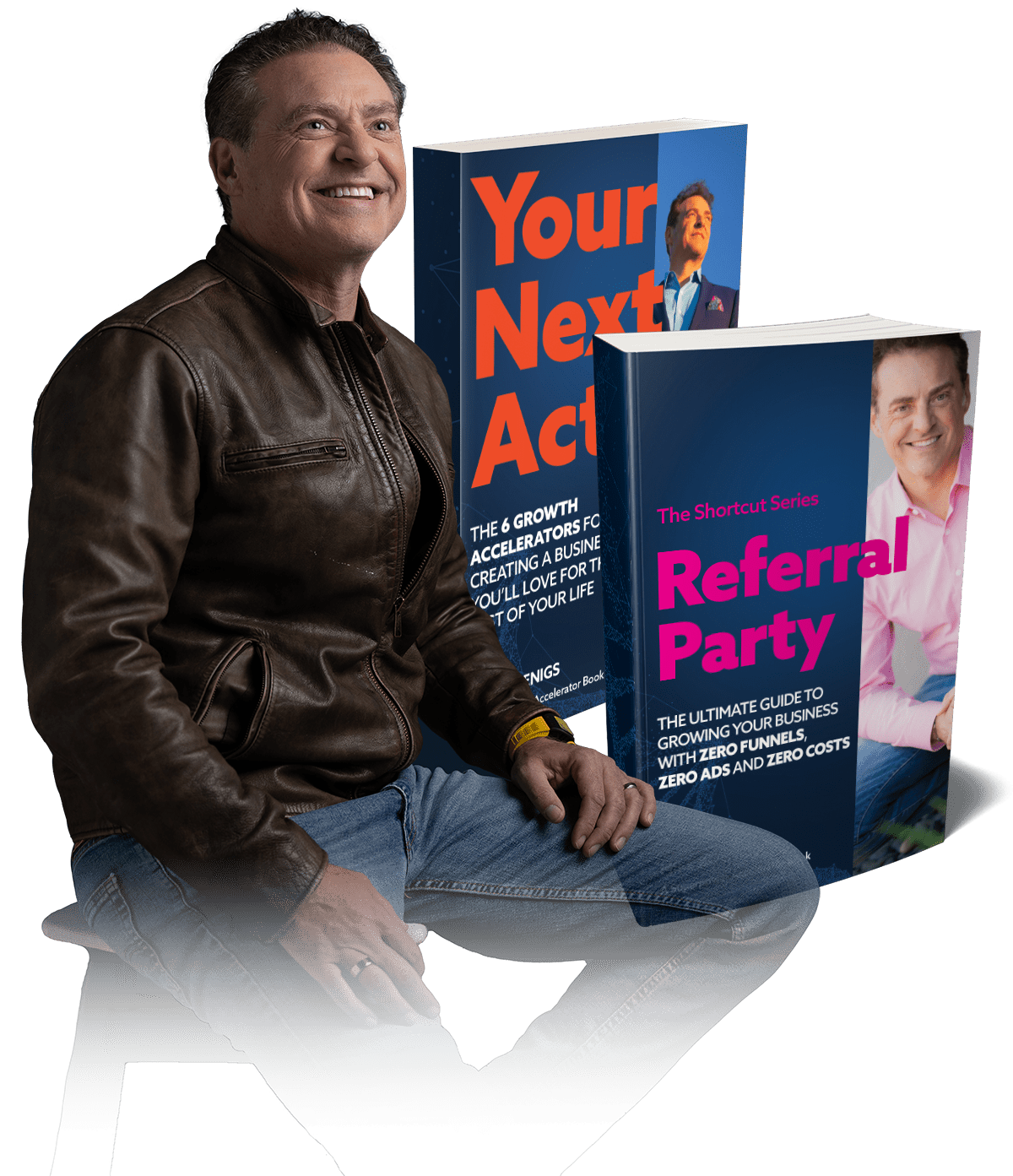 Mike Koenigs
13-Time Best-Selling Author
Serial Entrepreneur, VC and Angel Investor, Judge on Entrepreneur.com's "Elevator Pitch", Forbes and Entrepreneur Writer, 13-Time Bestselling Author, Mike Koenigs helps "Experts Build Empires" and "Category of One" personal brands. He works with business owners and entrepreneurs so they get PAID for BEING, instead of DOING by elevating their status, authority, thought-leadership and message to create more impact, income and freedom.
His companies have helped over 58,000 customers in 156 countries get noticed, amplify their message, create awareness, productize their knowledge, become bestselling authors, in-demand speakers and media masters to gain attention and engagement. He's helped over 1,800 business owners become bestselling authors.
Are you ready to experience the Superpower Accelerator?
Contact Mike Koenigs and his team to hold your spot to create a business you'll love for the rest of your life.